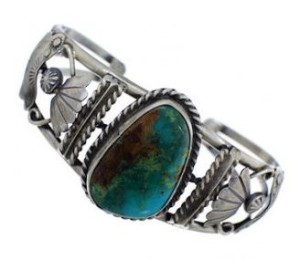 Native American Jewelry Enjoys Resurgence of Popularity
It is not difficult to fall in love with Native American bracelets. Because wearing multiple bangles is currently popular, and mixing styles is a design trend, handcrafted silver and turquoise Native American bracelets are enjoying a new renaissance as sought after fashion accessories.
If anything, the problem is to limit your selection to only a few well-chosen examples of the best of Native American bracelets. Fortunately, there are some guidelines. If you're lucky enough to live in or near the Southwest states of New Mexico and Arizona, you know that reputable dealers are knowledgeable and will guide to you quality examples, whether you are looking for antique examples of Native American bracelets, such as "Old Pawn," or work by award-winning young artists who craft exquisite jewelry using time-honored traditions. In other parts of the country, seek out the high-quality dealers.
Native American Bracelets Showcase Artistic Insight
There are certain markets, such as the licensed Native artists under the Governors Portal adjacent to Santa Fe's Plaza, that allow you to meet the artists and craftsmen, selecting perfect Native American bracelets from the artists who make them. And the August Santa Fe Indian Market with its hundreds of booths is a destination for serious collectors of art, whether Native American bracelets or pottery or life-sized bronze sculptures.
Finding examples of Native bracelets is an educational journey through cultures, areas and historical development as well. The artistic tradition reflects changing times and divergent traditions. Native bracelets made by Zuni artists are immediately recognizable based on their intricate design; as distinguished from the larger stones and heavier metalwork used in Native American bracelets crafted by Navaho artists.
New Materials Enliven Design of Native American Bracelets
Younger artists today work increasingly with inlay and semi-precious stones in designing Native bracelets, and incorporate metals such as gold in combination with traditional silver. Working with cuff-styles, or with links and hinges, is another trend in the design of Native American bracelets, and they are being forged for men as well as for women.
Travelers to the Southwest often shop for gifts to bring home. Even though Native bracelets might be a temptation to purchase at bargain prices, remember that, whether you're buying for yourself or someone else, handcrafted Native bracelets are works of art. It is important to consider quality as well as price, and look for lasting value.